Vinyl Wall Lettering
If you're looking for vinyl wall stickers to put up, look no further. We have a great range of colours and fonts to suit most requirements and if we don't have a font you require, please let us know and we will do our best to get it or try to match it as closely as possible.
We recommend the matt vinyl range for wall quotes and graphical concepts. The matt finish looks great as it reduces surface glare, often used at exhibitions and retail for it's quality, professional look and finish. The vinyl features a repositional adhesive providing a lower initial tack and clean removal in the short term.
This vinyl lettering is very popular in offices and homes where people like to see their favourite inspirational quotations or words of wisdom.
Go to the vinyl lettering designer page to pick your matt vinyl from the 'vinyl type' drop down and enter the wording you require.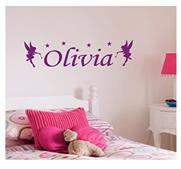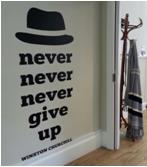 WALL LETTERING can create motivation and inspiration or direction at the right time and in the right place!
Send us your idea or graphic art file today and let Tribal Signs help you transform your idea into reality.
Customize your wall lettering to suit your unique needs and décor.
o   Colour of vinyl
o   Finishes: Gloss, Matt, Metallic, and more. We recommend matt vinyl for it's look and removal ease although if you're after a specific effect we can cater for that.
o   Font and type style
o   Size of lettering from 15mm to 575mm

Word Content can be anything. The list is as long as your imagination.
o   Family member names and 'nicknames'.
o   Favourite sayings, famous quotes: 'Just Do It'   'Live, Laugh, Love' 'Believe in Yourself'
o   Song lyrics:
o   Movie Theme sayings and graphic icons, logos or outlines. i.e. Bond man & gun.
o   Travel vignettes: Paris street 'icons'; Jungle theme graphics; Mountain outlines
o   Traffic reminders: 'Stop' 'Turn Here' 'No Parking'
o   Directions, warnings or reminders: ' Toilets' 'Free WI-FI' 'Cold Drinks' 'Plug in Here'
o   Send us your icon, logo or graphic file and Tribal Signs can include graphics with your order.
Applicable to most surfaces that are *smooth, dry, dust free and fairly flat.
PRE-SPACED and EASY TO APPLY.
o   Tribal Signs offers basic tools and simple instructions. The lettering and decals come spaced as you want it with backing tape so that you can apply it with confidence.
o   Tribal Signs You Tube application videos give simple reminders of what to do to make your application of the lettering quick and easy. Watch our how to apply video.
Durability is variable: Some vinyl lettering can be very long lasting (up to 7 years) and weather proof or short-term or temporary purpose uses.
Full Colour Palette range of shades. Match the vinyl to complement your décor or colour theme.
Types of vinyl available include:

Gloss, High Gloss, matt or satin finish.
Metallic or 'holographic' or 'psychedelic' effects.
Frosted or 'etched' effect vinyl.
High Visibility or Fluorescent effect
See-Through vinyl for various window applications.



Materials you can put Vinyl Wall Lettering on include:
o   Painted or varnished wood, painted plaster, plastic, metal.
o   Ceramic tiles, glass walls, enamelled wall surfaces.
o   Most types of painted surfaces including wallpaper; * within the above limits.
o   Vinyl Wall Lettering can easily replace décor stencils.
o   Some types of fabrics and textiles; i.e. banners or flags of canvas or polyester materials. Note not a long term solution but if you have a temporary need for some lettering on some canvas it will work short term.
Furniture: Tables, Frames, Mirrors, Dressers, Cupboards, Desks, lamp shades; an endless list.
Any room might be enhanced with the right kind, font and colour of wall lettering.
Surfaces NOT SUITABLE for vinyl wall lettering and graphic decals include:
o    Rough grainy surfaces such as brick, cement, asphalt, raised wallpapers, textured fabrics. These surfaces don't have enough surface area to adhere to properly resulting in a poor looking result which won't last very long.
o    Damp or moldy surfaces which do not dry out or are exposed to high temperatures or repetitive moisture such as a shower enclosure.
o     
High Visibility Wall Lettering: i.e. for emergency sites or building sites.
Free postage & packaging for Wall Lettering Order over £50
We can take your order today and ship tomorrow!
Places where wall lettering works well include:
o   Schools: at all levels
o   Gyms and training facilities
o   Pubs and social function rooms.
o   Restaurants
o   Retail shops: inside and outside signs and words.
o   Pop-up shops, charity shops, boot sales, community events.
Other Uses for sticky Lettering and decals cover a huge range of applications such as:
Toys,
Motorcycles, BMX, Bicycles, Scooters, Skateboards
Boats, moorings, marine equipment.
Cars, trucks, caravans, trailers
Sports Equipment: Gym equipment,
Inspiration and motivation are vital to success. Without it our minds and behaviours are most likely to continue in well worn old habits. When we do what has always been done we get what we've always gotten.
Reminders of what to do to get out of life's challenges and potholes often come at the wrong time or in the wrong place to really make a difference. When you are out and about you may see something great but by the time you return to work or get home it is often hard to recall the exact phrase or words of what inspired and motivated you.
There are many examples of influential Wall Lettering.
                Berlin Wall          
                Banksky
                Graphic Scribblings in most neighbourhoods
                Even Petroglyphs have been giving people a chance to express themselves since ancient times.
Removal
Obviously you must have a good sound surface to stick to and must be prepared for small amounts of surface damage when you come to remove the lettering, particularly if it's been on a long time. But if you're careful when removing it's likely you'll not have much of surface mess if any to clean up.